Rafael Lopes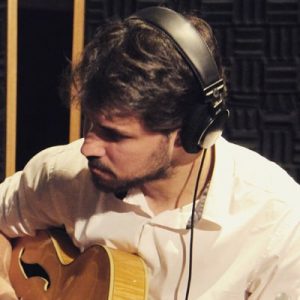 In his work, Rafael dialogues with elements of classical music and jazz, using improvisation as an important part in the creation and execution processes.
At the age of 11 he started studying guitar and violin in Porto Alegre, Brazil. During young age, he was a student at the Pablo Komlós Conservatory (OSPA), and had the first contacts with jazz guitar, improvisation and musical composition.
Graduated in guitar at UFRGS and master's degree in music at UFPR, Rafael also attended classes and courses with teachers such as Daniel Sá, Julio Herrlein, Mário Laginha, Jim Kelly, Kurt Rosenwinkel, George Russell Jr. and others. In 2012, he participated in one of the Berklee College's off-site jazz camps at Umbria Jazz festival 12′, where he won a scholarship at the prestigious music school and an opportunity to perform at the festival.
During the years of 2013/14, he spent a period living in Europe, where he had the opportunity to work and attend specialization in Performance Jazz, at the University of Aveiro, Portugal. With two albums released, "Círculo do Tempo" (2015) and "O Viajante Imaginário" (2017), he was nominated for the "Prêmio Açorianos de Música" in the category instrumental interpreter in 2018, as well had two mentions as one of the best in the Brazilian instrumental music scene in 2015 and 2017, by the site "Melhores da Música Brasileira".
The album Círculo do Tempo (2015) explores the sound of contemporary Brazilian and Latin music. Guest artists: Bruno Vargas (Quarto Sensorial's bassist); Bianca d'Ávila do Prado (cellist at Theatro São Pedro's Chamber Orchestra); And the plastic artist Manu Raupp, making the effects with drawing materials, such as pens and graphite.
O Viajante Imaginário (2017) is based on the book "Invisible Cities", by the Cuban/Italian writer Italo Calvino. This album is composed of external sounds samples and instrumental recordings, with 8 tracks divided into three chapters.